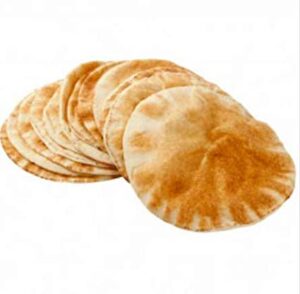 Most cultures have a form of flatbread — a leavened dough that is baked for a shorter period of time than a traditional hearth loaf or even a focaccia.
They are a pleasing addition to any meal, and can be cooked in a pizza hot oven that you are using to cook other foods — which can be too hot for a hearth loaf or focaccia.
Unlike a focaccia, a flatbread is cooked directly on the oven cookinghearth.
We often see families in restaurants enjoying flatbread topped with olive oil as an appetizer before a traditional Italian meal. Sometimes, after chatting about ovens with a restaurant owner or pizzaiolo, we have been sent a flatbread with compliments — and to show the pizzaiolo's skill.
By making your own lavash crackers, you can enjoy the pleasure of a salty cracker, without having to worry about the trans-fats that make up virtually every commercial cracker.
Basic Flatbread Dough Recipe:
1 1/2 cups water
4 TBS olive oil
4 cups bread flour
2 tsp salt
2 tsp dry active yeast
Using a bread machine, add the water and olive oil, then cover the liquid withflour .
Add the salt (half each in two corners), then make small well in the
middle of the flour and add the yeast.
Start the dough cycle, which will last for roughly 90 minutes.
Divide you dough into four round balls, and let rest for an hour.
Toss as you would a pizza, cover with olive oil, a splash of juice from your peeled tomatoes (if you have it), a dash of oregano and perhaps a little salt.
Cook for two minutes.
ITALOVEN PIZZERIA
44 Gemini Street
Brackenfell Industrial
Brackenfell
7560
Tel: 021 204 9881
Trading Hours: 12h00 – 21h00
FREE DELIVERY – T&C's Apply
WESTERN CAPE
44 Gemini Street
Brackenfell Industrial
Brackenfell
7560
Tel: 021 981 1372
Cell: 082 318 4992
Fax: 021 981 6775
GAUTENG
Plot 11B, Stegmann Avenue
Terenure
Kempton Park
Tel: 011 393 2597
Fax: 011 393 2589
Elsa-Marie: 083 273 9951
leanic@mweb.co.za