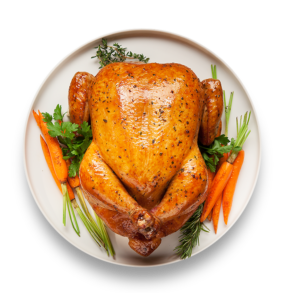 Ingredients:
4 lb chicken
1 onion, quartered
2 stalks celery
2 garlic cloves, peeled and sliced
1/2 cup water
4 TBS cooking olive oil
Herbs
Salt and Pepper
Preparation:
1. Place the onion, celery and garlic in the bottom of a steel, iron, aluminum or terra cotta pan. Cover with water (this will keep the vegetables from burning and give you chicken great flavors from the steam).
2. Rinse the chicken, pad dry, and sprinkle the cavity with salt and pepper. Place the herbs inside the cavity, and set the chicken on the bed of vegetables. Rub the chicken with the olive oil, and season with salt and pepper.
3. Bake for 1 hour (depending on your oven heat), with a small fire on the side (if your oven needs the heat). The moisture in the oven means that you not need to baste. If your oven is too hot, cover the chicken with foil (or just the tips) to keep the skin from burning. Remove the foil for the last 10-       15 minutes.
4. Prick the thigh with a fork — if the juices run clear, the chicken is cooked.Transfer to a serving platter.
5. If you would like, use the pan drippings to make gravy.
6. Remove the fat, then add 3 TBS flour and cook for 3 minutes.
7. Add 1 cup of chicken stock and cook for 5 minutes.
8. Strain out the vegetables and serve.
ITALOVEN PIZZERIA
44 Gemini Street
Brackenfell Industrial
Brackenfell
7560
Tel: 021 204 9881
Trading Hours: 12h00 – 21h00
FREE DELIVERY – T&C's Apply
WESTERN CAPE
44 Gemini Street
Brackenfell Industrial
Brackenfell
7560
Tel: 021 981 1372
Cell: 082 318 4992
Fax: 021 981 6775
GAUTENG
Plot 11B, Stegmann Avenue
Terenure
Kempton Park
Tel: 011 393 2597
Fax: 011 393 2589
Elsa-Marie: 083 273 9951
leanic@mweb.co.za